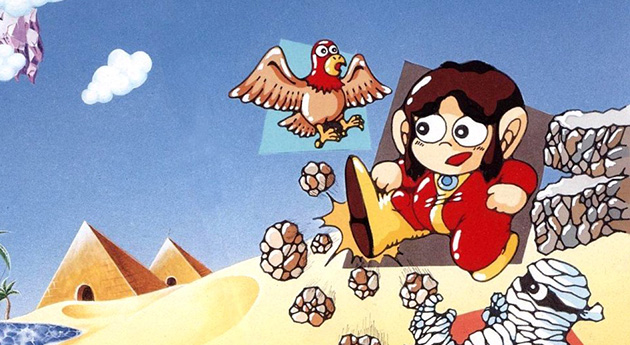 It's a Miracle This Sold Any Copies
Many of our younger readers might not know how important Alex Kidd was to SEGA in the years before Sonic the Hedgehog was blast processing his way into their hearts. In the early years of the video game industry, virtually every company needed a mascot.
Mario was clearly the key to Nintendo's early success in the arcade and console world, and while SEGA's arcade division was thriving, its new console, the Master System, was getting demolished in the U.S., if not worldwide.
So SEGA came up Alex Kidd, who, like Mario, could shatter blocks with his hands, rescued people for a full-time job, and looked like a fat Link in a spandex jump suit. #basescovered
SEGA's new mascot's first game was Alex Kidd in Miracle World. From the European and Japanese box art (Pictured right), you could imagine what the hell you were going to be doing in the game: running through a totally-not-Mario fantasy world and punching Paper/Rocks/Scissors bosses and Bowser's samurai Moblin cousin in the face. Cool. Considering most of the Master System's library, this is the pinnacle of '80s SEGA console creativity, adventure and design.
Parents and children in the United States were treated to something different.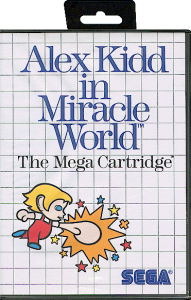 Take a moment and try to forget all the Alex Kidd lore you've studied and the hours of gameplay you've invested in his universe (so hard, right?) and pretend you're searching for a new game at Toys R' Us in 1987.
This is before Game Informer could overtly influence your purchasing decisions. And usually only one weird kid in class owned a Master System (and mad respect if you were that kid), so it was rough going making an informed decision.
Looking at the boxart (to the left, to the left!), what would you think this game is about? An imperialistic Aryan boy who rules gridland with an iron fist? An intrepid Swiss explorer with arthritis trapped inside virtual eeality?
If SEGA was lucky, you would stop and think any of those things, because this is worse than bad: It's banal, plain and boring.
Now I know that the early Nintendo Entertainment System box art is just modified screencaps (more like screencraps, right SEGA fans?) and that obviously worked out OK, so why fry SEGA for this simple approach?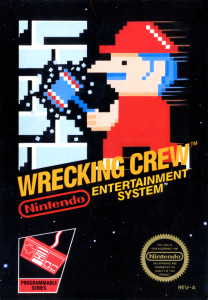 Well, Nintendo was already established as THE "video game," and unsurprisingly, beating Nintendo at its own game didn't work. SEGA needed to differentiate itself, not copy Nintendo's approach.
SEGA took its beatings with the Master System and then smartly brought us To The Next Level, introduced us to Sonic the Hedgehog, the SEGA scream and more '90s awesomeness and attitude, propelling the 16-bit Genesis/Mega Drive to worldwide success.
With such a rocky start, it's no surprise that Alex Kidd has most recently appeared in games with SEGA ensemble casts that should have been released a decade sooner. Perhaps better box art could helped Alex find his way to a few more homes in the West.
As a SEGA fan, you definitely need a sense of humor to cope with its history of face-palming failures. In the weeks to come, what other SEGA box art should I skewer for your enjoyment?