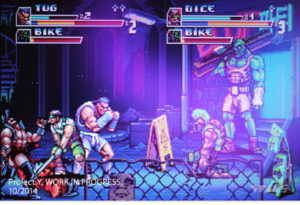 Watermelon Games has finally taken the wraps on its long awaited Genesis Streets of Rage style, beat 'em up Paprium and is now accepting pre-orders.
Paprium was formerly known as Project Y, and you can pre-order the game in a Limited or Classic Edition that is scheduled to begin shipping Sept. 16.
The limited edition costs $89 and comes in a customized clamshell case, and is numbered and signed by the development team. It'll also come with the cartridge (of course), a full-color instruction manual, and the first 1,988 copies pre-ordered will come with the Paprium Vol. 1 manga.
The classic edition will run you $69 and will be delivered in a classic Genesis/Mega Drive style clamshell case, the cartridge and the color instruction manual.
Paprium will be compatible with both PAL and NTSC Mega Drive and Genesis systems and has been translated to English, Japanese, French, German, Portuguese and Spanish.
The game is said to be the biggest Genesis game ever, clocking in at 80-MEGs, and it'll feature five playable characters, 24 levels, 60fps gameplay, two-player co-op, multiple game modes and three save slots. In the sound department, it will cram in 48Khz x 24 channels (FM, PSG, DT128M16VA1LT) … whatever that means.
Here's the game synopsis from its website:
Year 8A2, somewhere at equidistant point between Shanghai, Tokyo and Pyongyang, a Megapolis rose from ashes of the shortest but most devastating nuclear war in history, its name is PAPRIUM. BRUTAL, MASSIVE. You will fight your way through the city with Tug, Alex and Dice. Redefine the word justice, deal with the BLU drug temptation, and more importantly: STAY ALIVE!
You can pre-order Paprium at its official website here.