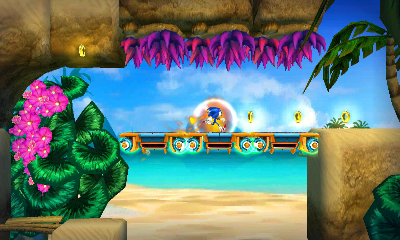 Today's of announcement of Sonic Boom: Fire & Ice has answered a lot of questions of whether SEGA will continue to invest in the Boom series.
The game's producer, Omar Woodley, discussed SEGA's plans for the new entry in the series with US Gamer.
"Sonic Boom is meant to branch away from the classic/legacy Sonic. Our plan is to go forward with both the modern Sonic and the legacy Sonic, but the Sonic Team will handle the legacy side of things in Japan," Woodley said. "For us, the Western initiatives will tie into the toys, merchandising, animation – movies potentially even. We're branching out into the more upbeat adventure style theme for Sonic Boom."
Woodley acknowledged the age-old difficulty in developing a Sonic game aimed at the 7-11 age demographic but knowing older fans of the traditional Sonic games will want to play it, too.
"That's a challenge: you've got your older audience and younger audience, but the older fans had a harder time getting into it, because it they're so used to classic and legacy Sonic, and that's what they thought Shattered Crystal was going to be."
"It can be tricky sometimes. You're developing a game that is for an intended audience, but we have a legacy group of people that played the Genesis and Mega Drive games. Then you have the audience that played the Dreamcast and GameCube era games," he continued. "Then you have the modern, younger audience. Each of these three groups is looking for something slightly different. Our challenge is how do you make a game that appeals to everybody. That everyone can play and say, "I like this." That's the challenge we're working with."
Woodley acknowledged the original Sonic Boom game didn't meet expectations.
"I think we went a bit too far with the exploration in the last game. There were a lot of speed runs and rhythm play sections, but they were so spread out you lost that speed aspect of the game. That was one of the big things that people complained about – 'if you slow down Sonic, it doesn't feel like Sonic,'" he said. "Now we're trying to fix that. We want to keep what's going on in the animated series, the adventure and exploration, but we also want to keep the feel of classic Sonic. So now we've made the levels smaller, and cut a linear path through them, and plugged in all the classic Sonic pieces, and now the game feels more like the classic game."
It might come as a surprise to some that Shattered Crystal's developer Sanzaru Games is returning to develop Fire & Ice.
"We're developing the game with Sanzaru Games, who also did Shattered Crystal. We think that they grasp the concept of Sonic, and what makes him unique. They also got on board with Sonic being more exploratory and having more adventure instead of that classic arcadey feel of gameplay," he said. "That's not to say we distance ourselves from that – there is quite a bit of speed in the new game, and quite a bit of the same nostalgia that's familiar, but new. But in a nutshell, this is a new franchise."
Woodley said they are addressing the problems people had with Shattered Crystal in the sequel.
"With our previous game, it was a kind of a shock to the fanbase how we designed it. There was more focus on exploration and less focus on speed. We've toned down on the exploration and put a bit more speed into Fire and Ice," he said. "In the previous game, we dropped you into this enormous labyrinth, a Castlevania-style level design. Sonic fans were like, 'What is this? I just want to run through and hit bounce pads and spring boards and speed boosts and ping-pong around.'
"So we've dialed down the length and the size of the levels and cut a linear path through the middle," he continued. "The exploration now happens above and below it. So now you can have that classic experience of running through the level at high speed if you want, but now you can also explore too."
Woodley then turns his attention on Fire & Ice's story and what players can expect level-wise.
"There are a lot of collectibles in the game too, which is tied up in the exploration aspect of the game – they all unlock stuff like characters and bonuses. We have seven islands in the game, six of which are exploration-based and feature four levels plus two bonus stages," he said. "Then the seventh is called Thunder Island. This is new to 3DS and the Sonic Boom franchise, and it's basically a two-player local play option that is based on a race between Eggman's bots."
"Basically, Eggman has found a new element called Ragnium, which he melts down and combusts as fuel. These bots, which are henchmen in the animated series, have been brought into this game as rival racers," Woodley continued. "Eggman's goal is to humiliate Sonic by making bots that are faster than him. Of course, that whole plot fails … but to do that you need to beat all the bots in the game to prove Eggman is wrong – there's one on each island. As you progress, you unlock character bots that can then be used to race your friends in local play on the crazy courses we've designed."
"The main story follows a henchman called Defect. He's been designed by Eggman to find Ragnium and mine it. He has these eco magnets that are supposed to enable him to raise it out of the ground. However, when Eggman turns him on, it totally fails – which is why he's called Defect. However, it turns out that he can magnetize everything other than Ragnium, so he begins to use his powers to build himself up so he can beat Sonic. Also, part of the storyline is that as Eggman collects Ragnium, he's polluting the environment. So part of the game is restoring the environment – which is an homage to the original Sonic games."
There's a lot more that Woodley discusses, so you should definitely check out the article at US Gamer.