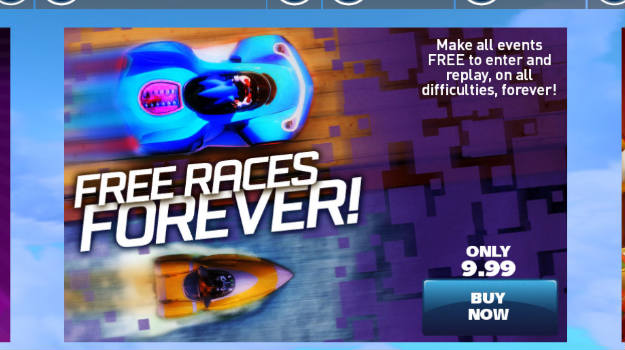 Sonic & All-Stars Racing Transformed released today on iOS and Android for $4.99, but like any mobile title released these days, there are some in-app purchases found throughout the game. 
For instance, for only $9.99, you can "make all events FREE to enter and replay, on all difficulties, forever!" Or you can spend an additional $9.99 to unlock Gum, Amigo, B.D. Joe, Joe Mushashi and Dr. Eggman.
However, Sumo Digital producer Steve Lycett has taken to NeoGAF to offer the studio's perspective. "You can get everything in the game through playing it and with in-game currency you earn through playing (with the exception of some early access to DLC content)," he wrote. "You don't have to spend anything else unless you want too after buying the game."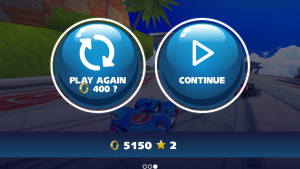 What has really ruffled some gamer's feathers is you can spend 400 rings to immediately replay a failed race.
"With regards to the Race/Retry cost, each area of the game has a 'Free' Difficulty," Lycett added. "This difficulty increases as you go through the game. You can earn Rings (and Stars) by playing any event, and you can in fact can play free events over and over to build up a stock on in-game currency.
Lycett said that the game was specifically designed for player to never have to purchase in-game content and everything can be unlocked by playing the game.
"I know how (un)popular IAP's are, but we've tried to design this around them in a fair way, before you criticise too harshly, wait till some people have played it and seen what it's like. I think you may be pleasantly surprised," he wrote.  "Have a little faith in us though, there has been a lot of thought gone into this to make sure it offers choice but rewards play. Some people actually like being able to pay to get everything without any effort which is why the option is there."
So there you have it, folks. Sonic & All-Stars Racing Transformed has plenty of in-game purchases for those who want quick access to content but for those of us who don't want to spend additional money, it's all there for you if you take the time to unlock it.
For only $4.99, I don't think that's asking too much.

[Thanks for the tip, sibarraz!]