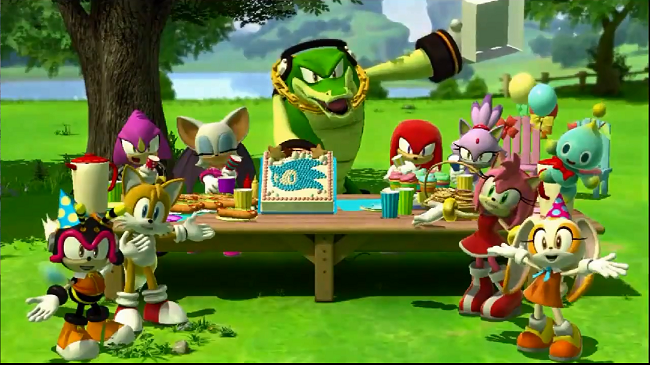 Today at SEGA Nerds we are saying a big Happy 22nd Birthday to Sonic the Hedgehog. This day (June 23rd) way back in 1991 was the day that Sonic the Hedgehog 1 was released on the Mega Drive in Japan.
Since then Sonic has featured in more than 80 titles(!!) from home consoles, to PC titles, handhelds and a number of mobile phone games. It's certainly been an impressive run for the little blue guy so far. Yes, not all of Sonic's games have been master pieces, but it's hard not to tip your hat to SEGA and Sonic – a character that has been on our screens for so long and has remained hugely popular across the world.
Competition time!
As we mentioned on our special Sonic-themed Nerdcast the other day – to help celebrate Sonic's birthday, we are giving away the Sonic Hits Collection on Steam!
This pack features 14 awesome Sonic titles, plus some add-ons:
Sonic the Hedgehog
Sonic the Hedgehog 2
Sonic the Hedgehog 3 & Knuckles
Sonic 3D Blast
Sonic CD
Sonic Spinball
Dr Robotnik's Mean Bean Machine
Sonic the Hedgehog 4: Episode I
Sonic the Hedgehog 4: Episode II
Sonic Adventure DX
Sonic Adventure 2
Sonic Adventure 2: Battle (add-on)
Sonic Generations
Sonic Generations – Casino Nights DLC (add-on)
Sonic & SEGA All-Stars Racing
Sonic & All-Stars Racing Transformed
Sonic & All-Stars Racing Tranformed: Metal Sonic & Outrun DLC (add-on)
Shut up and tell me what to do:
So how do you win this lovely prize? Simple – just answer this question below.
Question: Which video game did Sonic the Hedgehog first appear in?
– There's several ways to get your answers to us:
Email: seganerds@gmail.com
DM us on Twitter: @SEGANerds
PM us on Facebook: www.facebook.com/theseganerds
And if you need a hint to the answer – then be sure to listen to/watch our Nerdcast (link mentioned above) as we do actually mention the answer!
Little rules & regs bit:
The competition will run for one week, where we will announce the winner fist on our next episode of the Nerdcast.
Only one copy of the Sonic Hits Collection is available to giveaway and it cannot be exchanged for any other prize, or monetary sum.
The collection pack is only available on Steam and all games listed are only available for PC users (according to Steam).
– As a result, the winner will either need to have a Steam account, or create an account to receive the pack. The prize will be 'gifted' through the Steam service to the winning entrant.
Well I think that's all! Be sure to check back next week, or listen to our Nerdcast live to find out who the winner is!
Oh… and…
Happy Birthday
Sonic

!!